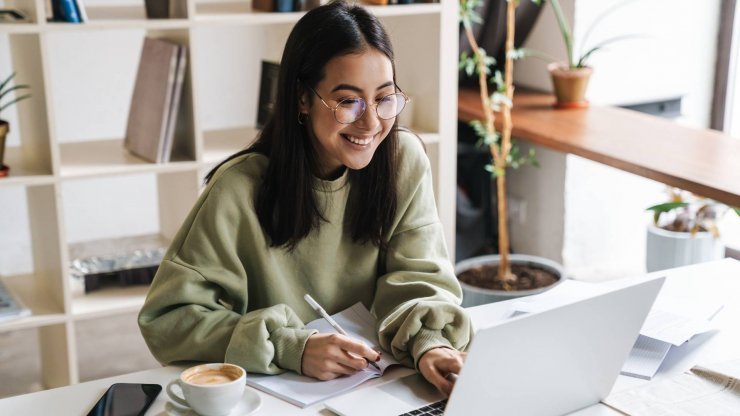 Graduating from university or college and starting your first job is a huge milestone. While this time can present new challenges, with the right mindset, you can start moving towards your career goals. 
Our article offers eleven tips for graduates who want to make a positive impression in their first job.
1. Chat with professionals from organisations and industries that spark your interest
Informational interviews are valuable meetings where you can have a conversation with professionals from organisations or industries that spark your interest. An informational interview is an informal conversation, usually lasting twenty minutes, with a person working in a career field that interests you. It is not a job interview, and its purpose is not to find a job. 
This approach will provide networking opportunities, insight into the industries you want to join, and guidance on the skills and qualifications necessary for reaching your career goals. Who knows, you might find a career you did not know existed.
Reach out to people you know who can help you set up these information-gathering interviews. This includes teachers, community leaders, friends and family. 
2. Keep studying in your field and enhance your skills
Don't stop learning. By expanding on your skills and education, it will make you a more valued graduate for positions that spark your interest. Beyond securing an entry-level position, continuously learning about your industry can improve your chances of promotion and allow you to make valuable contributions within your field. 
Additionally, looking into things beyond your usual area of knowledge can boost important soft skills like communication, leadership, and empathy. Here are some ideas for continuing your education after graduation:
Online courses
On-the-job training
Job shadowing
Researching and keeping up with industry news
Podcasts
Conferences and events
Extension courses
Read more about different types of continuing education.
3. Think about your career goals and communicate them with your employer in due time.
As a newbie to your job, it's important to think about your future and openly communicate your career goals with both your superiors when the time is right. Rather, don't launch into when you are getting your next promotion in the first year of your job. Settle in, learn, grow, work hard and then start to talk to your superior. 
Career goals are specific milestones that you can achieve in your career journey to help your professional development. While you are getting stuck-in and learning the ropes in your first job, always reflect back on your goals and keep yourself accountable.
For instance, if you start as a marketing assistant but hope to eventually become a copywriter, your manager could involve you in brainstorming sessions, have you shadow experienced copywriters, and assign writing tasks to help you develop those skills. 
By being transparent about your goals, and communicating them in due course (not in the first few months) you may have opportunities for growth within the company, leading to increased job fulfilment. Read more about setting career goals.
Read: Your earning potential in marketing.
4. Create a professional profile on LinkedIn
Creating a LinkedIn profile is like showing off what you're good at and making new friends in your career. On LinkedIn, you can connect with people you look up to, network with others who are into the same things as you, share your accomplishments, and put up stuff you've created or designed. Plus, companies and people who hire workers can look on LinkedIn to find people who are good at what they do.
Read more on how to create a good LinkedIn profile.
5. Take on responsibility for tasks at work
By taking on responsibility for tasks at work, you show your colleagues that you are a valued team member, prepared to jump in wherever you are needed. These tasks could involve being responsible for taking the minutes of team meetings, or updating the team calendar with various tasks. 
6. Make sure you're punctual; it's important
Mastering the ability to stick to a schedule is crucial for success in your career. Developing the habit of arriving five to ten minutes early for meetings and work. Being consistently punctual and prepared is often noticed and valued by colleagues and employers. 
This promptness can also apply to your communication approach. While some communications are more time-sensitive than others, responding to emails, messages and phone calls promptly can help you appear reliable and responsible.
If you are late, then apologise to your manager and ensure you don't do it again. Punctuality will make you stand out in the crowd. 
7. Offer to manage a project
By offering to manage a project, it will help you stand out by demonstrating initiative. You will be able to expand your skill set and grow your responsibilities. 
These skills are valuable for your career and could help you be considered for managerial positions in the future. 
Learning how to oversee, delegate, establish a timeline, and represent your team in public will strengthen your chances of success. By doing this you will demonstrate leadership skills which is an added advantage in the workplace.
8. Don't be afraid to admit your mistakes
It's not uncommon to make mistakes when starting a new job or in an unfamiliar industry. Fortunately, most errors can be fixed, and managers often value team members who take the initiative to admit their mistakes. 
If you do happen to slip up, it will be helpful to approach your supervisor with an open and honest explanation of the situation, along with a proposed solution. Seeking advice on how to avoid similar mistakes in the future is also beneficial. Open communication in these instances will establish trust within your team.
9. Identify a mentor
Having a mentor at work can be invaluable for personal and professional growth. The guidance, support, and wisdom they provide can help you navigate your career successfully, develop new skills, and build a strong professional network.
 A mentor can be found in your workplace by networking with colleagues or through various channels like LinkedIn, professional groups, or personal connections. 
If you cannot find your own mentor, ask your manager or HR manager to appoint one. Mentors are normally more senior individuals who share their wisdom, experience and guidance with a junior colleague. A mentor is also in the ideal position to help figure out what the most important skills are to take you where you want to go and how you can develop them.
10. Reflect on what you enjoy in your career
Your first job is a place where you can reflect on what you enjoy about the position and what sparks your interests. You are able to gain valuable hands-on experience while deciding in what direction you would like to go. Keep an open mind and explore various opportunities while narrowing down what you want to do long-term.
For example, if you have a psychology degree and decide to work at a preschool, you may discover a passion for working with children, prompting you to pursue a career combining your psychology with education. Or extending your studies to specialise in child psychology.
Bonus tip: Tips for graduate to supercharge their confidence and launch into the workplace.
RecruitAGraduate values ambition, and we want our graduates to grow and succeed in their chosen careers. These eleven tips are not just advice; they are the building blocks of a fulfilling and rewarding career. By incorporating these tips into your professional life, you'll be well on your way to achieving your career aspirations and making a meaningful impact in your chosen field. 
As you embark on your career journey as a graduate, remember that the habits you develop early can have a profound impact on your professional growth and success. 
Register with RecruitAGraduate here if you have not already done so.
Good luck graduates, we are here for you! Follow us on LinkedIn for information and new job notifications.