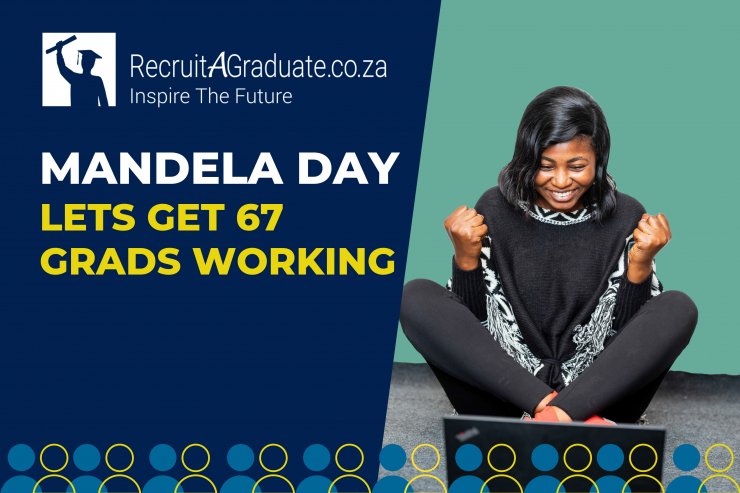 Nelson Mandela said it best, "It always seems impossible until it's done."
Tackling the unemployment rate among our country's youth may seem like an impossible task. However, we at RecruitAGraduate are committed to making a difference, one graduate at a time. In honor of Mandela Day on the 18th of July, we call on all business owners to join us in our youth employment drive. 
The theme of Mandela Day this year is One Hand Can Feed Another, and we at RecruitAGraduate believe if we all work together we can make a real difference through facilitating meaningful job opportunities for college or university graduates. We are showing our support this Nelson Mandela day by reducing our placement fees to only 6.7% for jobs or internships loaded on our website between 15 and 31 July 2021 in an effort to change the career trajectory of some of South Africa's most talented youth. 
If you are familiar with the graduate paradigm where most jobs require experience but graduates require jobs in order to gain experience, you will see how a small commitment from an employer, whether it is part-time, full time or even a contract or paid internship, can change a graduate's career trajectory.
Join us in being a part of changing the narrative of youth employment in South Africa. 
Some of the benefits of hiring graduate skills for employers are:
It's a cost effective way to hire resources.

Graduates bring a fresh new energy into the workplace.

Graduates are digital natives, meaning they are likely to be tech savvy.
In honor of Nelson Mandela, let's join forces and make a difference in the lives of 67 graduates. Load your job today to hire talented youth and inspire the future.
Read the terms and conditions here.