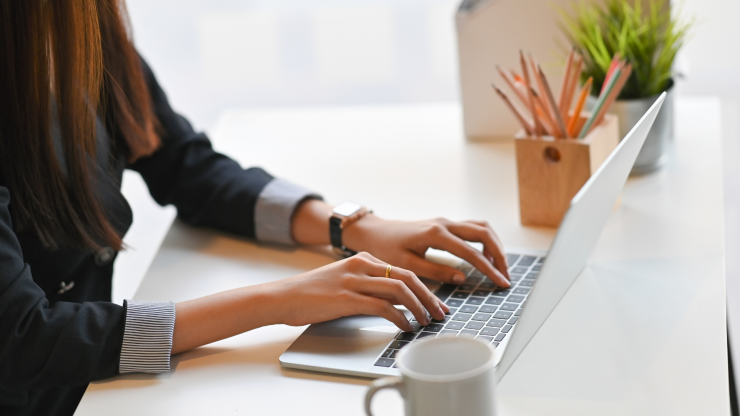 "Where do I start, and how do I write a good CV?" This is a question on most graduates' minds when nearing the end of their studies.  Do you want to learn how to write a CV that stands out? Everyone knows that a good CV (Curriculum Vitae) is crucial in your career journey. 
You do not have to pay a professional for a CV, you can write your own using this step-by-step guide to help you write a good CV. 
Step 1: Gather the Vital CV information
Before you start drafting your CV, gather all the necessary information, which includes:
1. Personal information: Include your full name (first name, middle name and last name), contact information (telephone number(s), email address, and LinkedIn profile, if applicable), and location (city in which you reside and province). Also, add if you are open to relocating, if applicable.
2. Career Objective: This is optional and should be tailored to the job you are applying for. It would not make sense to say that your career objective is to be a film director when applying for a software sales position.  Write a concise, objective statement outlining your career objectives for the job you're applying for. Ensure you update this every time you apply for a job to make it relevant to the position you are applying for.
Here is an example of a career objective paragraph for a CV: My career objective is to join a company that values my current skills and the contribution I can bring to the company as a graduate. I want to be on a journey of continuous learning and growth, both in skills and in myself. I would value being part of a team where I can learn and contribute. I want to learn the art of client negotiation and engagement within the Sales realm while contributing to business turnover. 
3. High School Education: List your high school years, subjects, and symbols. 
4. Tertiary Education: List your educational background, including the institution's name, degree earned, major subjects, and graduation date. Put your most recent qualification first, with your earliest qualification being last. 
5. Additional certifications and training: List any certifications, courses, workshops, or training programmes that are relevant to your career goals but are not necessarily part of your qualification. Examples include Udemy online courses and GetSmarter courses. 
6. Work experience: Starting with your most recent job, list your past work experiences, including internships, part-time jobs, volunteer work, or any relevant work-related activities. For each position, note the company/ organisation name, job title, dates of employment, and critical responsibilities. Ensure you highlight any accomplishments that will help an employer see that you stand out.
If you do not have any work experience, leave this section out. Make sure you have listed your skills comprehensively. Consider job shadowing, as this is an excellent way to gain experience and have something to put on your CV.
7. Skills that I bring: Identify all the skills you can offer relevant to the job you are applying for. There is no point in adding kite surfing when applying for an accounting job. However, including your hobbies shows you are balanced with various interests. 
Categorise your skills as: 
Hard skills: examples include skills you have gained during your studies, like accounting, statistics, journalism, and graphic design 
Technical skills: programming languages, software proficiency
Soft skills: communication, collaboration, and problem-solving 
8. Awards and achievements: Document any awards, scholarships, or honours you've received.
9. Leadership roles: Leadership experience comes from any position of authority that gives you valuable experience, like the captain of a sports team or the leader of a group project. Experience in a leadership role demonstrates positive attributes and skills, like good communication, a willingness to take the initiative, and much needed collaboration skills. 
Step 2: Choose a CV format
There are different CV formats, including chronological, functional, and a combination. A chronological resume uses a chronological, date or time-based format when listing out the candidate's academic and professional milestones. A functional CV focuses more on your professional skills and experience. You can read more about the differences here.
For your first CV, a chronological format is often the best to follow, as it presents your experience in a straightforward timeline. 
Here's a simple structure for a chronological CV:
- Contact information
- Career Objective (optional)
- Tertiary Education
- High School Education 
- Work experience
- Skills I have to offer
- Certifications and training
- Awards and achievements
- Leadership roles
Tip: Keep it short. Do not be too wordy when you write a good CV. In our experience, employers only look at a CV for six to seven seconds.
Step 4: Proofread and edit
After you've completed your first draft, get a friend or teacher to check your CV for spelling and grammar errors thoroughly. Use free tools like Grammarly, ChatGPT, or Quillbot to check each paragraph. Check for consistency in formatting and ensure that all information is accurate. Before sending your CV to employers, ask for feedback from mentors, career advisors, or peers. They will provide valuable insights and help you improve your CV.
Step 6: Design and layout 
CVs are packed with information, so it's essential to prepare them so the readers can easily read through everything.
Tips for a good design and layout of a CV
Pick an easy-to-follow font that reads well on paper and in digital format. 
Make it 12 points in font size.
Set consistent line spacing between 1 and 1.15 points
Separate the headings from the rest of the text and make them slightly bigger
Left-align the contents
Write your entries in reverse chronological order (from newest to oldest)
Add page numbers (e.g. Page 2 / 4) in the footer of each page, alongside your name and contact information (just in case the pages get mixed up after printing)
Include graphical elements if you are applying for a creative role at a company that values your creativity. 
Tip: Keep the design simple and professional when you write a good CV.
Step 7: Save and send
Save your CV as a PDF and keep the Word format as a reference for future editing. A PDF preserves the formatting of your CV when sending it via email or uploading it to career sites. 
When sending your CV to potential employers, use a professional email name ( hotlips@gmail will not be taken seriously) and write a short subject line. 
Tip: Include a brief cover or motivational letter
Writing a catchy cover letter is important, especially when applying for a new job or even your first job! 
Here are 5 tips for an effective cover letter
Start with a professional greeting, as this sets a professional tone for your cover letter.
Next, write a short introduction about who you are and what you've been up to. You can include your skill set and qualifications and how they relate to the position you are applying for.
Always write professionally. Don't use slang or shortened words. Always, always, always remember to check for any grammatical or spelling errors.
 It's important to explain why you feel you would be the best candidate for the position. This shows confidence and that you've considered the position you're applying for.
Practise writing your cover letter a few times to ensure it reads well and you've included the most essential parts relevant to the job. 
Now that you have crafted your perfect first CV, make sure you prepare for the possibility of an interview and avoid these common interview mistakes.
Read how you can make a positive first impression in your job interview.
RecruitAGraduate values our graduates and wants to ensure you are prepared in the best way possible. Register with RecruitAGraduate here if you have not already done so.
Follow us on LinkedIn for information and new job notifications.