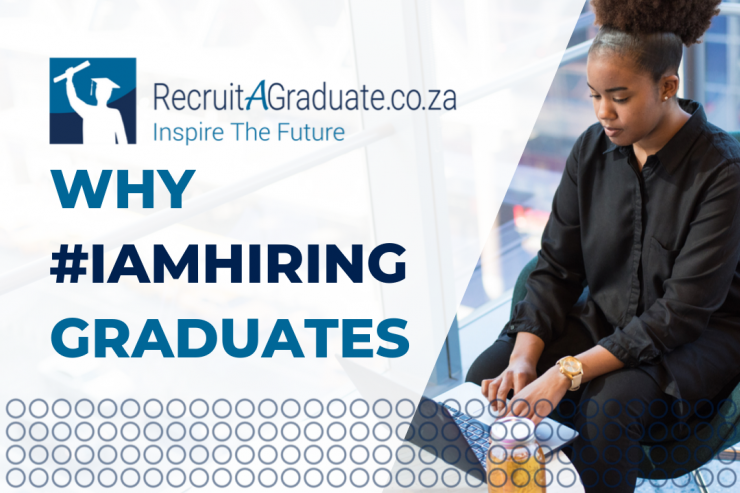 The Facebook group #ImStaying, with over half a million members, has fostered its fair share of controversy. On the one hand it has created an online community who feel the positive stories shared are a welcome change to all the horrific crime, corruption and negativity that we as South Africans are faced with every day. Others feel the group is elitist and panders to those from privileged backgrounds. Regardless of whether you support or oppose this group, many South Africans are faced with the question of how they personally are going to make a positive impact on the future of our country. We are all united in our desire for a better future but how to make that happen? 
Landscape for graduates in South Africa
Unemployment is unarguably one of the country's most critical issues with the unemployment figure reaching 27.6% in the first quarter of this year (Stats SA), up half a percentage point from the fourth quarter in 2018. They also state that the 15–24 year old age group are the most vulnerable as the unemployment rate was as high as 55,2% in the 1st quarter of 2019. Cyril Ramaphosa has described the rate of youth unemployment as a, 'shame on our country's conscience'. Government has a lot to answer for, however we also have to take some responsibility on how we personally, as well as our organisations, are going to bite the unemployment elephant, one job at a time.
South African graduates are understandably despondent and many are looking for opportunities to move overseas even if it means not working in their desired industry due to the lack of employment prospects. Graduates have a college or university qualification but generally lack practical experience with many facing the question in an interview, 'what experience do you have?' How do they get that experience? Companies too are feeling the pressure of the current economic crisis so why then take on a graduate? There are many  advantages, namely:
Future target audience
Most of South Africa's business leadership today can be described as Generation Xs (those born between 1965 and 1980) who are at the apex of their careers, exceptions being startups and entrepreneurs. Generation Xs are known as the first generation of latchkey kids, lived through Y2K, downsizing and the end of the Cold War. It is a generation characterized by hard work, independence and who value flexibility.
Enter the Millenials (those born between 1981 and 1996) who grew up in an age of school shootings, terrorist attacks, AIDS and social media. They hope to be the next great generation and want to turn around all the wrong they see in the world today. Then there is the even newer generation grouping, Generation Z (born between 1997 and 2015) whom marketers reveal display even different characteristics to Millenials in terms of what social media sites they visit and what they look for in terms of products and experiences.
There is no doubt that how the three generations view work and how we approach life are different. If businesses want to attract and retain Millenial and Generation Z customers now and in the future, they need to embrace those entering the workforce into their organisations to make sure their products and services fit the needs and ideals of these new generations.
New ideas and perspectives
Graduates offer a huge opportunity to introduce diversity into your team and a fresh perspective. If you encourage them to share their views and ideas they may just give you cause to reflect and look at things in an alternative way. Graduates are generally eager to make a contribution and their ideas are not jaundiced by what you have tried before, negativity and office politics, this fresh take can be powerful.
Flexibility
Should you take on an intern or graduate, they are usually wanting to gather as much work experience as possible and are far more open to spending time doing various tasks than someone who has been entrenched in a company or role for some time. If you hire a graduate whether on an internship or permanent basis, they can be allocated to different departments which means that all areas of the business can benefit from the extra resource. This is in addition to providing invaluable experience to the graduate intern for their career. Regardless of where they end up specialising, this exposure to other areas of a business will make them far more effective in understanding the bigger picture of how your organisation is structured and operates as a whole. They are also less likely to have family responsibilities and are probably more open, if compensated and felt to be an integral part of the team, to working after hours.
Technology skills
One of the Millennials and Generation Zs greatest strengths is their comfort with all things technical. Regardless of whether they have studied an ICT related degree, commerce or the arts, they have all grown up in the age of YouTube, Facebook and Instagram and most have more than just a working knowledge of all platforms. According to the Independent Communications Authority of South Africa (ICASA), SA smartphone penetration is sitting at over 81.72% (end of September 2018). This can be an incredible advantage to your organisation's marketing department. 45% of the world's population are now using social media (Hootsuite, March 2019) and graduates can not only add invaluable insight in this area but can also be valuable trainers to those in your organisation who are not so comfortable with the #hashtag.
Affordable with existing skills
Hiring a graduate is a great deal more affordable than hiring someone with many years' experience. For this investment you should be welcoming a person into your team with a strong work ethic. In order to qualify, they would have had to complete many assignments and have usually gone through years of exams. This would all have required communication, planning, stress management, data organisation and analysis skills. In some cases they would have had to deliver presentations as part of their course requirements. So when people think of a graduate as, 'unskilled' this is not necessarily the case.  
Fast learners
There is something to be said for being, 'learning fit'. This is why many Generation Xs find taking on a new qualification or skill more challenging. The fear of failure is predominant whereas graduates are generally wanting to learn any new skill or technology thrown at them. Their openness, adaptability and enthusiasm can also have a knock on effect throughout the organisation.
Offer one graduate a placement or internship
By offering just one college or university graduate a permanent position or internship you have the opportunity to be that person and organisation who gave them their first payslip and the dignity that having a place to go to every day, that earning an income affords. 
Advantages for South African companies offering graduates employment
Companies who are BEE compliant can increase their BBBEE rating through skills development via the Youth Employment Service (YES)

Companies can receive a pay-as-you-earn (PAYE) tax reduction through the Employment Tax Incentive

For apprentices and internships, companies can claim back skills development tax from the Skills Levy
Phillipa Geard, founder and CEO of RecruitMyMom and 2019 Fairlady Santam Woman of the Year recipient, was moved by Cyril Ramaphosa's speech on the plight of the unemployed youth in South Africa and decided to hire an intern as a business owner. When she was inundated with poor quality irrelevant CV's, she decided to help employers make recruiting graduates easier and start the recruitment agency, RecruitAGraduate.co.za. She now hires graduate recruiters who sift through the CV's and present only the best calibre candidates to busy employers and business owners. 
At RecruitAGraduate, we can help you find the right graduate for a contract or permanent position. We only work with reputable, registered higher learning institutions and with screened graduates. RecruitAGraduate offers placements nationally. 
---
Simply post a job for free on the website and our team will take over and do the rest. Employers receive a qualified short-list of candidates from which to choose. You pay only upon success.  Contact us if you would like to find out more about hiring a trusted intern or graduate for a contract or permanent position.  
Imagine the impact on our country if every organisation could say #IAmHiring?