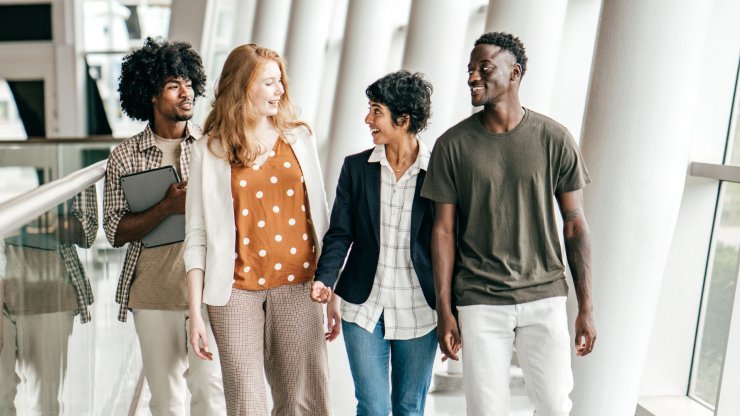 Sitting at 63.9 percent for youth between the ages of 15-24 for the first quarter of 2022, the youth unemployment rate in South Africa is staggering. However, the picture looks different for graduates in the same age group. The unemployment rate for the first quarter of 2022 was 32.6 percent. This has declined from a graduate unemployment rate of 40.3 percent for the first quarter of 2021. The decline in graduate unemployment indicates a greater demand in the labour market for youths with tertiary education, especially amongst graduates from top universities. The unemployment rate decreases from age 35, which is often after an individual has gained a few years of work experience.
Hiring graduate employees is a government-backed solution to the critical skills shortages we are seeing in the South African economy. Many employers need workers who are skilled in sectors relating directly to the critical skills list. Below we discuss some of the ways you can close current and future skills gaps in your company by hiring graduates using a talent pipeline strategy.  
A talent pipeline strategy is a solution
It's time for business leaders to get creative with how they attract the skills they need. We recommend a talent pipeline strategy. A talent pipeline is a pool of newly skilled candidates who are employed for the sole purpose of developing skills and work capacity so that they can fill current and future jobs with a company. RecruitAGraduate helps employers to quickly and easily find individuals who are qualified, vetted, and eager to grab an entry-level position with both hands. 
How to get skilled graduate employees using a talent pipeline
How you position jobs on the market is important because of how selective the candidates of today are, even more so post-pandemic. An EY survey recently found that the balance of power has shifted from the employer to the employee, which means that the younger employees of today require a more tailored engagement experience. Widen the talent pool by using innovative methods to attract talent. 
Use a service that specialises in graduate recruitment
Younger generations are attracted to companies that are forward-thinking, innovative, and tech-friendly. Their knack for technology is one of the reasons they are so sought after. They have a way of communicating and a way of being communicated to. RecruitAGraduate does all this for our clients. We attract, chat, engage and place them in jobs that we know meet their needs. 
Gain global and national reach from your chair
RecruitAGraduate attracts graduates from all across South Africa due to the nature of the online services we offer. You no longer need to set up a promotional tent on campus, we bring the talent to your computer. 
Think about using both permanent and contract employment models
Using a combination of permanent and contract graduates can be a powerful talent acquisition tool. Contract staff enables one to seek out the best of the talent within a pool without a long-term commitment. 
Our different service packages make it easy for you to hire according to your talent pool needs. 
Use the best of human ability and technology to source the best talent pool
We use some of the best recruitment software globally, yet, still believe that the best talent is found through human interaction and engagement. 
This holistic approach helps to set the right graduates apart according to the criteria of the job specification and the needs of our clients. We will find the graduates that best qualify and complement the requirements of our clients. 
Look out for graduates who have completed an internship or graduate programme
Graduates who have completed internships or graduate programmes have work readiness training and experience. Some clients prefer to train from scratch but for others, not having to train someone is a benefit. Ask your recruiter for a graduate who has completed a work readiness program if that is required. 
RecruitAGraduate is your answer to finding skilled candidates
To assist forward-thinking employers in their search for diverse and skilled talent from a pool that is ready to work, we offer an innovative online solution that helps close the skills gap in South Africa. Use our recruitment team to assist with your talent pipeline strategy to build the future generation of skilled professionals, provide meaningful work and successfully grow your business. 
Load a job directly or contact us on 021 2011190.